Fingers, Thumbs, and People
Designing for the way your users really hold and touch their phones and tablets
Already paid up? Jump to the videos, downloads and descriptions.
The mobile smart device has taken over the world, and with it the touchscreen interface. There are over two billion portable touchscreen devices in use today, and hundreds of millions more installed in cars and kiosks.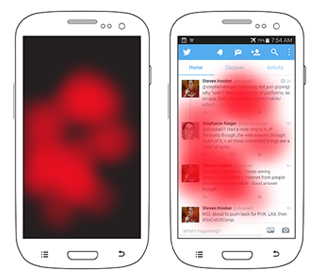 It's time to set aside personal biases, and ignore poorly-founded guidelines like Apple's 44px for how people use their touchscreen devices. Now we have real data, and can design to proven, universal, human-centric standards.
You might think you know how you, and your users hold and touch mobile phones and tablets, but you are probably wrong. We are bad at self-reporting, and there's much rumor and misunderstanding out there.
This is the one topic I am an absolute authority on. I've done much primary research on this, and published the results of my studies and analysis numerous times. You can see all the basic data, get links to the articles and see a version of the presentation I gave at SXSW earlier this year.
So I am just tossing this in cause I already had it, right? Nope, you get a whole new version of the deck no one else has ever seen, much longer than ever before and including simply everything I know about the topic.
In this course, you'll learn:
The truth about how people hold and touch their phones, phablets and tablets
Key lies, mistruths, and out of date info you can ignore
The technology of touch and how it impacts your design
The physiology of touch, and how people's hands really work
Ten key tactics to keep in mind when designing and testing for mobile and touch
Only $13 for a year of unlimited access to all the videos, PPTs, newsletters and calls. But only for a limited time do you get this price, which is your renewal rate forever as well.

Sign Up Now


Fingers, Thumbs, and People
Designing for the way your users really hold and touch their phones and tablets
49:38 - 29 November 2015
---
Have you not bought this yet? Come on, it's only $26 for a year's unlimited access to the 13 part Complete Guide to Designing Mobile User Experiences, and much more.

Sign Up Now


Fine print: I have a day job where people like me to drive around and show up at offices, so sometimes there will be delays in newsletters, updates to decks, or even the planned video call. You have the code, so if you want to be a cheapskate and share it with your friends or company, I can't stop you but please don't spread it around. Everything is copyright 4ourth Mobile and took a long time to make so please don't post the downloaded files for everyone to grab for free. If you are offensive to any individuals, mean or just a needless jerk on calls or comments, I reserve the right to delete your comments and un-subscribe you.